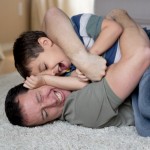 Adrian Eissler
Adrian grew up in gymnastics and went on to captain the NCAA men's gymnastics team at the College of William and Mary. He has ten years of coaching experience at all levels of gymnastics and cheer tumbling.
Adrian is also a lawyer licensed in Texas and Colorado.  He kept his hand in the gym during his seven years of legal practice by coaching in the evenings, but the desire to return to gymnastics full-time ultimately couldn't be denied!  Adrian was lucky enough to train in club and college gyms with coaches and gymnasts that became like family.  It is his objective to create a gym that fosters those relationships, with intensive gymnastics training on a day-to-day basis, but underneath the more lasting objective being the development of character and an extended gym family.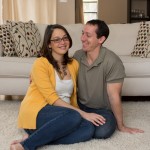 Margaret Eissler
Margaret was also an NCAA athlete, running cross country at Southwestern University in Georgetown.  She currently teaches 6th grade language arts at Chisholm Trail Middle School in Round Rock.
Margaret is passionate about both fitness and literacy. One of her favorite aspects of the gym is the creation of the opportunity for the entire family to enjoy a clean, comfortable space and to be involved in healthy activities. Our young adult and children's library, the Book Nook, is her handiwork.  Margaret loves enticing young readers with the latest children's and young adult literature, and we think our families will love the opportunity to jump into a broad selection of the latest books while their gymnasts are in class.